Tweet
Oh, the sensation of slicing Locust in half
.
CliffyB knows what I'm talking about.
Some might call that attitude murderous, but I promise I am clearheaded as my teammates orderly dismember waves upon waves of Locust seeking vengeance. Horde has never been purely about the massacre; that's just a pleasant bonus. Horde is strategic cooperative gameplay at its finest, and its successor in
Gears 3
combines that cunning gameplay with boss battles, sturdy fortifications, and other awesomeness to keep the heart pounding. Let's examine further, yes?
Although impossible to express my delight in words, I'll try my best. Horde in
Gears of War 2
wasn't perfect. Obvious flaws like predictable enemy patterns plagued the mode from reaching its pinnacle. It was the beginning with much left to be desired, and Epic answered all the calls with Horde's sequel. With the predictability relatively gone, rounds rely heavily on luck and skill, the precise placement of fortifications, and teammate positioning. Five bases on each map also allows for a team to decide how enclosed or spread out they should be for the upcoming slaughter.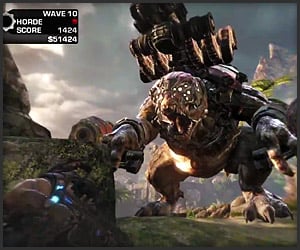 After a tense countdown between rounds, a brief moment of breathing and deliberating, the fun starts. Turrets, spike strips, laser barriers, haphazard decoys, sentries and the coveted Silverback mech are all available to annihilate the impending onslaught. The Silverback being the most destructive, of course, but also the most expensive, so it's best to resort one player to save cash through the rounds and unleash havoc on the boss wave.
The climb is satisfying, but reaching the climax per ten waves is a thrilling experience. A little message pops up saying "Queen Myrrah unleashes the fury of the Locust Horde!" and the blood begins boiling. Any enormous enemy can count as a boss including the Brumak and the dreaded Lambent Berzerker. Just seeing the obstacle is instantly heart-wrenching -- especially the Lambent Zerker, perhaps the toughest enemy of the bunch. Strategic coordinated attacks are necessary to rid these behemoth creatures from existence.
Horde is vastly improved and the evidence shows. Watch any gameplay videos and it's instantly recognizable how much more fun and accessible the mode has become. Hard to say whether 2.0 is the pinnacle, but it sure is close. Shall we slaughter some Locust now?
I decided to run this as a Silverblade Sunday because Horde is such an awesome mode. Many major shooter franchises have implemented a similar mode, so its impact is far across the industry. Does Horde mean much to you guys? Do you agree with my opinion or would you rather invest time in the shotgun infested multiplayer?
Also, if you like what you see, why not subscribe? Not only does it support the bloggity-blog, but it shows you care!