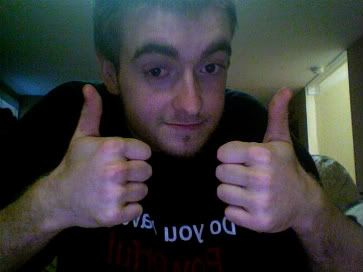 I don't have a lazy eye. Puffy eye syndrome. Bad.
Hello everyone! I hope you have fun perusing the blog. My name is Jeff and I'd like to formally welcome to you to
Volatile Mode
, my blog about the video game industry. While
VM
is still in the working phase, I hope you enjoy your stay, if brief, in visiting my lovely piece of paradise, or so I call it.
Except peppering in a guest post every so often,
Volatile Mode
is all my work. I've loved this industry since my youth, and over the last year, fallen in love with blogging as well. Engaging with readers interested in gaming gives me joy and acts as my fuel to continue blogging. That said, I should clarify that
Volatile Mode
provides daily (or as my schedule allows) commentary on the gaming industry, including discussion of news bits and other opinion pieces. I don't try and regurgitate the same news like most volunteer sites, seemingly desperate for attention. If readers want news, they should go check out the likes of
Kotaku
and
IGN
. I'm just a good ole' blogger who happens to have free time and a trusty laptop (and wants to be a professional writer someday).
Being a news junkie, reading the latest and greatest news and opinion became my inescapable passion. And when I discovered gaming, that desire to read more and more grew into an uncontrollable monster. Between the bump and grind of daily life, I can usually be caught either writing or researching a blog post, idea pondering, or playing games. It's a rather simple routine, but I've had enough complications in my life to truly appreciate simplicity.
By nine, I was writing yearly Christmas cards that I refused to show anyone out of embarrassment; little stupid rhymes thrown out quicker than I wrote them. Around this time I was lost in
Pokemon
like every kid at that age, when untrained imaginations are dangerous and focus is easily shifted. It wasn't until fifteen I started caring about gaming
news
-- discovering IGN and reading heavily on speculation of the current generation caught my eye and the hook dug deep.
November of 2010, two weeks before my 20th birthday, I had an offhanded and slightly supercilious conversation with a college friend who recommended beginning a blog. "A place to rant," she spoke. I couldn't think of any harm, and thus
Volatile Mode
was born. Since I'm terrible with names,
A Video Games Blog
was the established name until recently. Now, a year has passed and I'm still strongly enamoured with gaming and blogging, and hopefully that won't change for some time.
While almost impossible, the dream is becoming a professional writer. Preferably covering games, but anything spanning into technology or sports is where I'm best suited.
If you'd like to know more, I can be reached through
email
,
twitter
, or commenting on any post (including this one!). You can also subscribe via RSS on the right, making it easier to read the latest posts from the blog. Thanks everyone, really.
Jeff out.